UNCANNY AXIS – FAMU CAS + Photo
May 3, 2019

-

May 10, 2019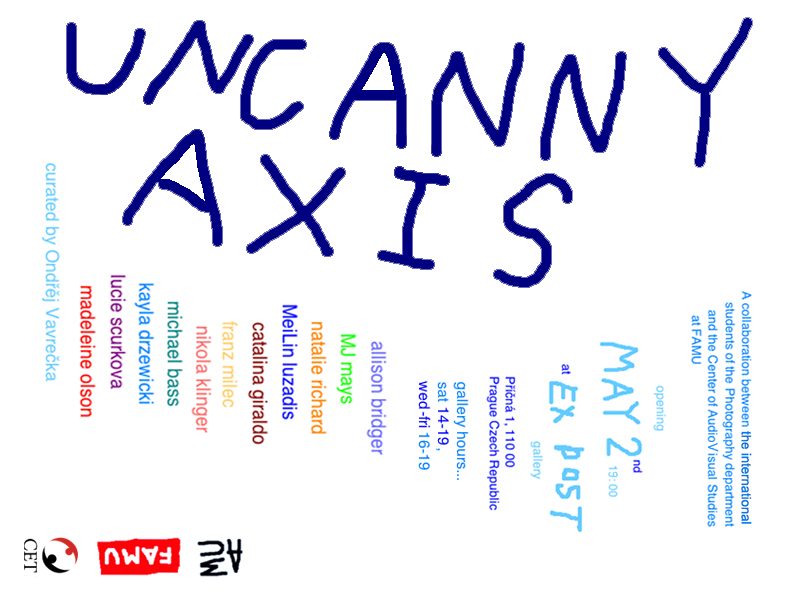 Zveme Vás na výstavu semestrálních prací stážistů a studentů Centra audiovizuálních studií a katedry fotografie FAMU. Expozice bude přístupná do soboty 11. května v otevíracích hodinách galerie.
Expozice zahrnuje semestrální práce včetně instalací, VR, živé performance a fotografie.
Vystavující:
– Michael Bass, Renewal
Experience the evolution of the Jewish Quarter in Prague in this virtual reality short. RENEWAL is my experiment to discover what VR can do as an art form and media technology. The project features only a few of its limitless capabilities: interactivity (via gaze and controllers), basic animation, time travel portals, immersive audio, 3D modeled streets of the old Jewish ghetto, and 360° video of the modern quarter.
– Allie Bridger, Music Has Two Faces
My images represent what is the emotional experience behind every musician's relationship to their craft – the light and dark, and how each strips the musician bare.
– Kayla Drzewicki
there is no place I would rather be than on the internet, there is no place I would rather be than on the internet is an improvised desktop performance (by way of video projection) that combines 2D and 3D elements in order to investigate the fusion of physical and digital worlds. How do online experiences influence what is "real"? This work is an attempt to visualize a reality in which there is no definite beginning or end to these environments, a kind of purgatory. *video on display is a recording of the May 2nd performance*?
Video projection, laptop, graphite and crayon on computer paper, fishing wire, fan
– Catalina Giraldo, Untitled
The piece explores trust and expectations. As part of our nature, we consider our first impression of a person or situation to be correct. From that moment on, we believe any other behavior to be out of character or simply unimportant. Consequently, we fall into patterns of trust or mistrust that blind us. It takes time for our subconscious to update our perception, to let us see what's right in front of us. How much can we fight our nature?
– Nikola Klinger, Untitled
Dark landscapes are my long term fascination, by using long exposure and a grainy film, I am trying to bring photography to its graphic foundation.
– MeiLin K. Luzadis, Amalgamation
For this project, I was inspired by another class I am taking in which we photograph only paper and light. I wanted to find a way to combine both the paper and light and my passion of landscape photography. I used the process of photograms; which is a way to create an image by placing objects onto light sensitive paper and exposing it to light, and analog photos that I've taken around Prague to give it a more whimsical element.
– MJ Mays, Wedged
Wedged is a photographic study of the wedgie – a universal experience for nearly everyone and their beloved underwear. It explores the genuine awkward occurrence of the wedgie and its reliable presence in our lives and intergluteal cleft.
– Franz Milec, Does Not Compute, 5 trillion operations per second. That's the amount of computation performed by the neural co-processor of your latest smart device when capturing a single photo. As the relationship to the represented loses its importance for photography, composite images reveal the unknown realms of existence.
– Madeleine Olson: Soffit is an outside site specific projection installation made for Legi Most (Legion Bridge) in Prague, Czech Republic. The project is about intervention of text into space as both an archive an imagination of social activities within Legion Bridge, Vysehrad Railway Bridge, and Troja Bridge spaces. Through projecting text onto various parts of the site, viewers are called to investigate normalized behaviors that have been conditioned to bridge spaces.
– Natalie Richard, Untitled
My work deals with the style and body language of studio portraiture in the late 19th century and early 20th century. I took photos in this style but with my models dressed in their own modern-day clothing to explore the body language and gestures used in those time periods.
– Lucie Scurkova
Where to go? What to do? In all times we can hide inside our mind – our mobile home. Memories fill it and desires overgrow it.
*Installation contains video, audio and a living snail named Socialismus
Otevírací doma (Opening hours):
St – Pá (Wed – Fr): 16 – 19 hodin
So (Sat): 14 – 19 hodin
Ne – Út (Sun – Tue): Zavřeno (Closed)